The Distiller Podcast is one year old.
Our first episode aired on December 16, 2017, and featured Danny Korman of green general store Park & Vine, interviewed at The Anchor OTR in Cincinnati. Since that first show we've produced a show every two weeks. That's 52 weeks. 26 shows. 32 guests. In that time over four thousand episodes have been streamed or downloaded by people in 28 countries, including locations as far off as Lithuania, Uganda, and Iceland.
It's been a great first year.
The Distiller Podcast began with the simple idea of talking with people from all different walks of life about the work they do. Whether that work was paying or not, glamorous or not, the assumption was that simply asking people, "Why, and how, do you do what you do?" would yield interesting results. We were not disappointed.
The Distiller: 2018 at a glance
Episode Downloads: 4,353
Countries: 29 (#1: USA – 96%)
US States: 44 (#1: Ohio – 42%)
Most common platform: Mobile Apps (73%)
Most common device/OS type: iOS (iPhone/iPad – 63%, 8 total)
Most popular client: Apple Podcasts App (51%, 35 total clients)
Website Sessions (thedistillerpodcast.com): 3,794
Website Visitors: 2,676
Meaningful Discussions About Meaningful Work
Our hope in creating The Distiller was simply to feature discussion about the issues surrounding how we think about, and find, meaningful work. Our tagline is, "How we find meaningful work, and how we find meaning in the work we do." But it turns out that's a complex question, and the discussions we've featured have been so layered, with so much depth, that we're humbled simply to have been a part of it.
It turns out that our ideas about work are as varied and diverse as there are jobs and types of people. And just because someone's work might create meaning for society doesn't necessarily mean it's consistently fullfilling to them. Often the people with the most apparently meaningful jobs have the hardest time finding space for their own dreams in their work.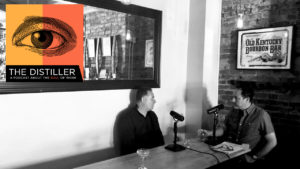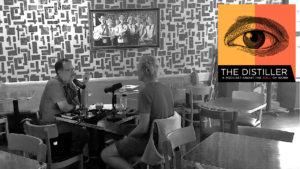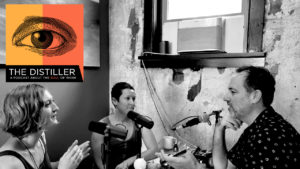 Looking Back at 2018
And so we present here, not a "Best Of" episode, but simply a review, a look back. This episode could easily have been twice, or three times as long. But we tried to keep it as close to the normal length of our episodes (approximately an hour) as possible. Ultimately these are just some of the most memorable moments from 2018, as determined by us in a very inexact way.
If you haven't listened to The Distiller, or have only listened to an episode or two, prior to this one, we encourage you to dig a bit deeper, and hope this episode serves to point you in the direction of conversations you might find personally engaging. You can find every episode of The Distiller on our Archive page, and you can see every one of the 26 locations where we've recorded, on our Locations Map page.
Looking Ahead to 2019
Finally, as we say at the end of every episode… if you're enjoying what we've started this year anywhere as much as we have, we invite you to rate review The Distiller wherever you listen. You can't imagine how much that helps us in the effort to get The Distiller to more people, and broaden the reach of what we're doing.
As we look ahead at 2019, we have some modest goals:
Continue to broaden our audience in hopes that more and more people will find these discussions helpful, enjoyable, and meaningful
Continue to broaden the scope of our interviews, specifically to include more trades, more "workaday" jobs that perhaps aren't immediately viewed as sexy, as well as more types of work that aren't typically valued in our society, such as those done by the disabled, and by retirees. Wage-earners don't have a corner on "work," and the discussion needs more perspectives to be accurate.
Continue to improve the quality of everything we do. From audio quality, to production, to the process of booking and recording our episodes, to this website. We want to get better and better at every turn.
Find ways to make all those goals self-supporting. Those of us who work on this show, up to this point, make nothing from it. That's not because we're philanthropists, it's just been a labor of love up to this point. Finding sponsorship and opportunities to let our audience contribute to the costs of producing the show in 2019 will help us accomplish all of the above goals. If you have ideas, or want to help or support the show…please get in touch with us.
That's pretty much it. Thank you so much for listening, whether this is your first episode, or you've listened to all 26 (27 including this one). We don't take it for granted. We have a great lineup already taking shape for 2019, and we hope you'll be listening in the new year.
xoxo,
Brandon