Libby Hunter Believes Storytelling Is the Key to Overcoming Poverty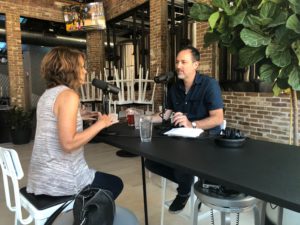 When you talk with Libby Hunter about literacy, you'd better buckle your seat belt. Libby talks quickly, and with purpose. Aside from a brief stint in real estate to pay the bills, she's been working in the non-profit sector since college. She knows the kind of work it takes to effect change. When talking about WordPlay Cincinnati, the literacy non-profit she started in 2012 with a friend, her posture changes, her focus narrows. Libby Hunter is driven to make a difference.
That drive to make a difference is both generalized and specific. It's generalized, in that Libby has been working with non-profits almost her entire professional life. When asked where that drive comes from, it's so ingrained in her that she almost can't answer. That sense of mission has always been there. It's specific in that she can trace the roots of WordPlay to a single night in Cincinnati's Northside neighborhood. It's a mission born of rocks thrown at a defenseless client by a group of disadvantaged kids and by a need to know why these kids would do this. What would make them think it was okay? What factors played a role in creating this situation? And what would need to be different for things to change?
The Past and Present of WordPlay Cincinnati
It was out of that experience that WordPlay was born. Libby and her co-founder Elissa Yancey discovered 826 National, the nationwide organization founded by writer Dave Eggers to improve child and teen literacy across the US, and she traveled to their headquarters in California to get training. Over the ensuing six years, Libby has worked tirelessly, with the help of volunteers, a committed board, and an ever-increasing staff of paid do-gooders, to get to where WordPlay is today. And where WordPlay is today, is finally at the place where Libby can take a brief, but much needed vacation. Which is saying a lot for a non-profit.
With six full-time staff, a center of operations in one of the most diverse neighborhoods in Cincinnati, and inroads into numerous in-need schools, WordPlay is making a real difference. Do some Google searches and you can find out more about the good WordPlay has done and is doing…but The Distiller is about work. So we asked the person who's most comfortable talking about her organization, to do the thing she's least comfortable doing: talk about herself.
Libby Hunter Links & Resources
The Finer Points of Urban Literacy, at 3 Points Urban Brewery
We met Libby at 3 Points Urban Brewing in Cincinnati's Pendleton District. You may remember Pendleton from Episode 11 with Meredith Shockley-Smith, recorded just down the street at Urbana Cafe. Since we spoke with Meredith in April, Pendleton has continued to transform. Those smoke alarms we referenced in episode 11 are now fully functional and installed at 3 Points. On the same block is the new Boomtown Biscuits & Whiskey, and the just-opened Lucius Q barbecue restaurant. And then there's the Nation Bar & Restaurant – in the heart of it all and arguably the place that kicked off this development boom.
And more businesses are coming! We talked with 3 Points owner Aaron Kohlhepp, off mic, about the expanding perception of The Pendleton District as a walkable part of Downtown Cincinnati and Over the Rhine for people out for the evening and those who live and work in those neighborhoods. And it's true…any respectable Cincinnati downtown/OTR brewery crawl now includes not only Rhinegeist, Taft's Alehouse, and the Christian Moerlein Taproom, but 3 Points Urban Brewing as well.
WordPlay Cincinnati 2.0
We tasted the delicious "Magic Wand," described as a kettle sour with hints of coconut and lime juice. Brandon claimed the aftertaste was (pleasantly) reminiscent of Captain Crunch. It was crisp, refreshing, and under 5% alcohol. Not a bad combo for a hot Friday afternoon in the city. And we talked with Libby about both the past and the future. WordPlay is now a player for (and is getting) major grants. They're expanding into not only new schools but new neighborhoods. And they're moving their center of operations just a little way up the street in Northside. It feels a bit like the start of WordPlay 2.0, the next phase in the work, and impact, of this vital Cincinnati non-profit. But first, Libby's going to take that well-deserved vacation with her sons.
Libby Hunter of WordPlay Cincinnati, on The Distiller