People talk a lot about "work-life balance" these days.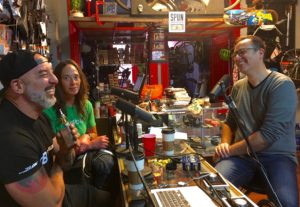 But what if your work is your life, and vice-versa? What if your work life is also your marriage? And what if the combination of the two is tied to your mental health and well-being (how could it not be)? And if you're a small business owner… is there any other way to live?
Episode #2 of The Distiller was recorded at one of Brandon's happy places: Spun Bicycles in Cincinnati's Northside neighborhood. Owners Dom & Judi LoPresti are a couple of unique people with an amazing story, much of which was covered in their 2015 Bicycling Magazine profile. It's worth a read if you haven't already.
Episode 2 Links & Information:
We spoke about life since that article, and about the changes in their lives since opening Spun in 2014. We talked about how the shop, and the all-encompassing nature of running a small business, fits not only who they are, but how they live and maintain their marriage and their sobriety. In an industry of posturing and posing Dom & Judi are the real thing, and there's no mistaking that when you talk with them.
As you might imagine, we skipped the cocktail/spirits for this episode. Instead our co-producer Teri lovingly procured coffees from Northside's Sidewinder Coffee, which was perfect for warming up our conversation on a cold (fairly) early November Cincinnati morning.
Thanks again to Dom & Judi for welcoming us into the shop, for being so open about their lives and their relationship, and for giving us some insight into what it takes to maintain an local business in the days of big-box outfitters and pretentious social-media-posturing-as-marketing-strategy bike shops. If you've never been to Spun, check them out. And maybe we'll see you there.
-bd
Spun Bicycles – Photos from Episode 2: