It took a while for Mark Dejong to call himself an artist.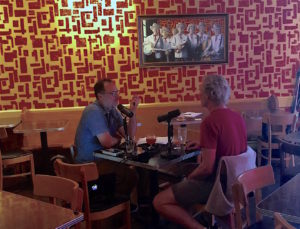 Mark Dejong was born in The Netherlands, but his family moved to Cincinnati when he was a child. In his 20's he took classes at the University of Cincinnati's prestigious School of Design, Architecture, Art, and Planning (better known locally as "DAAP", pronounced "dap"), but didn't pursue an art degree. Following his interests, and principally doing work that would allow him to pursue his passion for travel, Mark worked as a carpenter into his thirties, and his original interest in art languished.
Through those years, the title of "artist" conveyed something Mark wasn't ready to inhabit. So it lie dormant while Mark honed his skills and paid the bills. But those years gave him the skills and confidence he needed to eventually combine his interests into his own unique "work." And it was in finding that work that Mark found the willingness to call himself an artist.
How many of us let concerns about titles and perceptions stand in the way of the work we have to do? How many of us never get back to picking up the thing we laid down? Fortunately for us…Mark did pick it back up.
The Intersection of Art and Housecraft
Mark talks about "housecraft," a combined term for the skills that go into making and re-making living spaces. While he's the first to say he's not an expert, or necessarily a master craftsman, Mark's interests lie at the intersection of art and housecraft. He's figured out a way to combine his passion and his profession into something uniquely his. Sometimes it may lean toward the professional, as in Mark's "Circle House" where creating a livable space where the artistic elements are secondary to the practical concerns. Or, as in the Swing House, the skills of housecraft may combine to make something wholly new that, while technically functional as living spaces, are designed more to be enjoyed as art than lived in.
Mark Dejong Links and Information
Press for The Swing House
We met Mark on a rainy Tuesday afternoon. The kind of afternoon where a brief, torrential summer downpour overwhelms gutters and downspouts. Where the roadways are overwhelmed, and hilly neighborhood streets turn into raging rivers. On the tail-end of one such storm, under overcast skies we sat at a small table and nursed bourbon drinks while we investigated the turbulent waters of finding one's work. If you listen close you may hear the thunder that accompanied our discussion.
Talking Art and Work Over Bourbon at The Comet
The Comet is a perfect place for such a discussion. Originally opened in 1997, The Comet has remained essentially unchanged as a quaint, mostly quiet, welcoming neighborhood bar of the best variety. The craft beer case is always stocked with something exotic. The rotating taps boast a perfect mixture of interesting novelties and low-budget standbys. The back kitchen turns out cheap, delicious, abundantly sized burritos with options like jerk tofu and pineapple salsa. When in doubt, always go with the salsa-of-the-month.
Yeah, Comet has regulars, but it's easy to feel like a regular at The Comet, no matter how many times you've been there. Stop by for bike night on Tuesdays and you'll see a mix of re-tooled classics, scooters, crotch-rockets, and more. The riders all just happy to be there, with nary a judgmental comment between them. Or come Sunday night and dance the new week in with the Comet Bluegrass All-stars. Whatever your speed, The Comet is the perfect canvas, as it was for our discussion of work, art, and the difficulty in assigning meaning to the work we do.
The Work of Finding One's Voice
Mark talked about returning to art as a result of seeing an exhibition that reawakened the need within him to have a voice in the culture. He's still finding that voice, and he's still figuring out what he wants it to say. But for Mark, that no longer means he's waiting for the next thing. It means he's embraced that the process is the work he needs to do. As he looks ahead to his next project, The Stair House, he's embraced the way he works. It's okay that he doesn't have the words to explain it…He knows for now that pursuing the work is pursuing his voice.
We're excited to watch, and listen to, that voice as it develops.
The Distiller Podcast with Artist Mark Dejong