Ruya Coffee is the realization of a lifelong dream.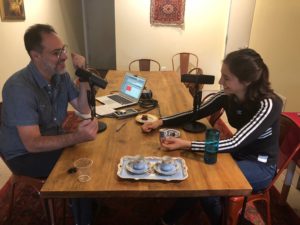 That's not surprising, since Ruya means "dream" in Turkish. Melis Aydogan, the founder of Ruya Coffee, never saw herself as an entrepreneur, or a small-business person. But when a chance meeting on a bus from Chicago to Cincinnati started her thinking about community, the idea behind an authentic Turkish coffeehouse quickly came together.
On episode 8 of The Distiller we interviewed Megan Trischler, Program Manager for People's Liberty. People's Liberty is a Haile Foundation program that gives grants to individuals and non-profits working to build community in Cincinnati. That chance encounter was with a previous People's Liberty grantee, who asked Melis what she would create if she won a grant. Her Turkish heritage immediately surfaced, and she had the idea for Ruya within a few days.
Episode 23 – Ruya Coffee – Links & Information
More Than Just Coffee: Community and Connection
Before recording the podcast, we spoke to Melis's mother Aysa, who explained that coffee is at the heart of hospitality in Turkish culture. When someone comes to your home, you offer them coffee. When you meet for business, you start by having coffee. Coffee is the catalyst, the springboard for relationships of all kinds. Melis wanted to bring that experience to Cincinnati in a way that wasn't just about the coffee, but carried through to the community.
When you walk into Ruya Coffee, just off the main square of Cincinnati's Findley Market, it feels like you've entered another world. The soft colors, the tapestries, the draped ceiling and low couches all make you feel as though things have slowed a bit, and invite you to settle in and relax. But just as much as the coffee and the atmosphere, the ritual, including the traditional Turkish art of fortune telling, using the spent coffee grounds, transforms the experience from internal and sensory, to external and communal. When Aysa crouches next to a couch to read someone's grounds, you can't help but lean in to hear. And the result is laughter, conversation, connection.
Meaningful Work, From the First-Generation Perspective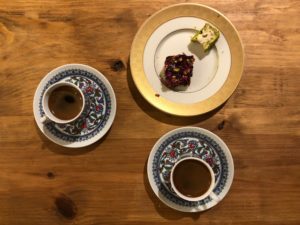 Other than college, Melis Aydogan has lived in Cincinnati her entire life. Her parents immigrated from Istanbul before she was born, even though they were very happy in Turkey. They figured they'd live here for a couple of years to establish dual citizenship for their children, and then move back home. But surprisingly, they found they loved Cincinnati. And two years turned into two decades, and counting.
Melis grew up very Turkish and very American, attending high school in the affluent Indian Hill suburb of Cincinnati. Her family would travel back to Istanbul with her family, and maintaining connection to their roots. In college, Melis quickly found she had a lot in common with other first-generation students. While she doesn't want to paint with an overly broad brush, she says most of them had priorities completely different from their classmates. They were all cognizant of the sacrifices their parents made to come to the US. College for them was not about fun, or "finding yourself." College was about getting through as quickly as possible, and getting a job to be able to contribute to the family and help pay your parents back for all they gave. When Melis graduated (early) from Boston University, she looked for opportunities that would earn well, and that would be stable. Her uncle had worked in sales at P&G, and so it was the first place she looked.
Studying The Grounds for What's Next
Today, Melis works hard. She's good at her job. But working at P&G has never been about personal meaning or mission for her. Work has always been about family, and about the desire to show appreciation. That's why Ruya is such a complicated story for Melis. The experience of building something from scratch, something so deeply tied to her values and culture, has been an eye-opener. She's found new skills, discovered capabilities, and opened the door to a new view on work. She's thinking differently about how she approaches, and what she expects from, her work.
Melis is also thinking about what's next for Ruya. The coffeehouse is open Friday, Saturday, and Sunday through November 18th, at the People's Liberty "Globefront" space in Cincinnati's Over The Rhine neighborhood. But the experience has been so positive, the connections so powerful, that Melis is having a hard time imagining it ending. She's exploring different ways to keep the dream alive, and her partnerships with local Cincinnati businesses like Maverick Chocolate, Deeper Roots Coffee, and Churchill's Fine Teas are helping to pave the way. If you're reading (and listening) before November 18th, 2018, be sure to visit Ruya Coffee at 1805 Elm Street. Past that date, visit ruyacoffee.com to find out how things are developing for Melis and the Ruya team. If we could interpret the grounds, we'd predict a bright future not only for Ruya, but for anything Melis touches as well.
Ruya Coffee's Melis Aydogan on The Distiller