Tasha and Justin Golden have been married a long time by any standard.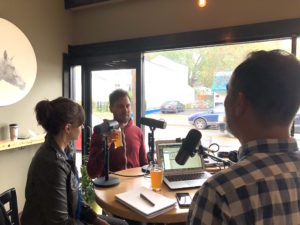 Just about twenty years, in fact. And you don't stay married that long without learning some pretty good lessons about relationships. During that time, they've also gone through some fairly major life changes. They've both changed careers at least a couple times. They navigated some significant changes to their belief system(s). And they moved cities to pursue work. That's a lot of change for one marriage to withstand. But Justin and Tasha are up for the challenge.
They first met as teenagers at college, around a love of music. That shared interest soon birthed not only their relationship, but their band, Ellery. Justin and Tasha performed, recorded, and toured as Ellery for over a decade before Tasha's anxiety and depression became so pronounced that they had to take a break. That break ended up lasting seven years.
Episode 22 – Justin & Tasha Golden – Links & Information
Change By Choice, Change By Necessity
So what do you do when the only thing you ever wanted to do is taken from you? When your body and mind simply refuse to cooperate with your dreams? For Tasha, that process has been one of finding that there can be more than one dream. And that sometimes the thing you thought you were made to do, may not be who you are after all.
Tasha explains how she eventually enrolled in classes at Miami University of Ohio, as much to fill her days as out of a deep desire to learn. But there she found a passion for research, and for structure, and eventually for academia, that she didn't even know she had. Today she's a PhD candidate at the University of Louisville, studying Public Health (of all things). And she's doing deep, meaningful work with incarcerated women, helping give voice to their lives and struggles. The joy and satisfaction in this work is evident on her face. And the examples of changed lives are in the many writing snippets she shares.
Taking Care of Business, Taking Care of People
For Justin, the transition out of recording and touring as Ellery meant "getting a job." A connection with a friend led to a project management job at a video production agency in Cincinnati, where he worked for five years. The job supported their family while they figured things out, and taught Justin important lessons about his ability, and what it means to take care of people in a professional context.
Taking care of people is central to who Justin is. If you didn't recognize the name, or pick it up while listening, Justin is the audio editor and mixer for The Distiller. He's the reason anything we do sounds good. When Justin and The Distiller host Brandon Dawson first started talking about working together on the show, Justin proposed the idea of "audio hospitality." It's the notion that the show should be inviting, comfortable, to listen to. And it's an idea we hold at the core of how we make the show. We're inviting you into our space…why wouldn't we make it as welcoming as possible while you're here.
Justin eventually left the PM job to get back into music (which he never really left) full time. Justin now works as a web/broadcast audio producer, doing "sound-to-picture" for outlets like Funny Or Die. And he does the occasional tour with artists like Ben Sollee, mixing the shows and making it sound great. He's working as a studio producer and engineer, having just completed production on Kim Taylor's forthcoming album (to be released in early 2019). Needless to say, he's staying busy. And he's doing great work.
New Dreams, New Dreamers
After that seven-year hiatus, after enough time had passed to forget how they used to do it, Tasha and Justin started writing and recording again. In 2015 Tasha published a book of poems entitled Once You Had Hands. And in 2017 Ellery released a five song EP titled "Over Land, Over Sea" that picks up where Ellery left off, if perhaps a bit wiser, and a bit more polished at their craft.
That's a lot of change for a relationship to sustain. And it's important to understand, as we discuss in our conversation, that it's easy to look at the high points and gloss over how really, achingly, hard it was at times. But this is life. It's how we learn and grow. And the Goldens have never been ones to shy away from growth, or to turn their backs on the real stuff of life.
Included at the end of this episode is the song "Tennessee Whiskey (Hallelujah)" off Over Land, Over Sea. Here's the song "I'm Done Waiting" from the same EP.
Great Conversations Deserve Great Beer
We met the Goldens on a busy (trans: Loud) Friday afternoon at Monnik Beer Company in Louisville, Kentucky. Nick and the entire staff at Monnik couldn't have been more welcoming. We sipped the delicious Monnik IPA over the course of our conversation, and soaked in the welcoming atmosphere as we spoke. This episode ended up a bit louder than expected (who can predict a Friday afternoon crowd!), but it just adds color to the discussion. Thanks again to the Monnik staff — if you're in Louisville, or just passing through, be sure to visit Monnik, and tell them The Distiller says "Hi!" when you do.
Tasha and Justin Golden on The Distiller