Corben Bone's Work Is Play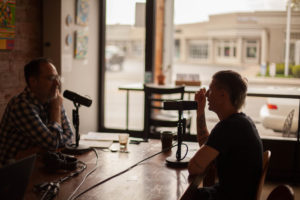 On the field or off, Corben radiates energy. Watch him play in his midfield role for the F.C. Cincinnati soccer team, and you'll see the way he sparks the team to life when play lags. In person Corben is direct, approachable, and no-nonsense, both physically and philosophically. There is an ease about him, recognizable in anyone who knows they have put in the work and are prepared for anything
We met Corben on a Friday morning, just before the day's training, at Red Tree Art Gallery and Coffee Shop in Cincinnati's Oakley neighborhood. Corben is not a big guy, but his intensity fills the room. The word that comes to mind is "focus." His five-foot, ten inch frame is wiry, like a coiled spring. He's present, engaged, ready.
Playing the Long Game
Talking "work" with a pro athlete is an interesting opportunity. How does a person whose childhood dreams have become reality, think about vocation? Or do they? And how do you think about work, when your work is "play?" For The Distiller host Brandon Dawson, it was a great opportunity to unpack some of the notions those of us in more "traditional" occupations take for granted. And largely what we find is: being a pro soccer player is (in many ways) not that different from what most of us do for a living.
Corben Bone – Links & Information
Currently in its third season, F.C. Cincinnati (or "FCC" – the "F.C." stands for "futbol club") plays in the United Soccer League (USL), a league long considered a "feeder" league to the top-tier MLS. But the USL is catching up. And even as the club pursues an invitation to the big leagues, including planned construction of a facility unambiguously named "MLS Stadium," players like Corben Bone and his FCC teammates are giving the MLS a run for its money in terms of quality and competition.
Corben Bone has been with FCC since the team's inception in 2016. As you'll hear in our discussion, it was a long road to get here, and FCC has been a redemption of sorts. Once the college player of the year at Wake Forest and a first-round MLS draft pick expected to make an immediate impact, Corben Bone is now (dare we say it) one of the elder statesmen of the club. One of only three players remaining from the 2016 team, he's a solid presence, not only in the midfield but in the locker room as well. And the adversity he's gone through to get here has made him an anchor both the coaches and other players can rely on.
Corben Bone's Reading List
But Corben is on a timeline that is not entirely in his control. Athletes in most professional sports have short, visible careers that end with almost an entire working life still ahead of them. That built-in career horizon makes for some interesting calculus when it comes to considerations of things like home, family, roots, and legacy. Corben is well aware of those considerations. And even as he quietly hopes for a return to the MLS as part of FCC's ongoing upward climb, he knows who he is and what's important to him. He's a man with his priorities clear and his heart in the right place.
For the first time in his life, those considerations span beyond him. The long-time free agent now has his wife Annie and son Brooks to factor in. And the purchase of a home in Cincinnati's diverse and lively Northside neighborhood indicate Corben is planning on being around the Queen City for a while. Cincinnati soccer fans certainly hope so.
Corben Bone on The Distiller Podcast