Chef Derek Dos Anjos' Secret Weapon May Surprise You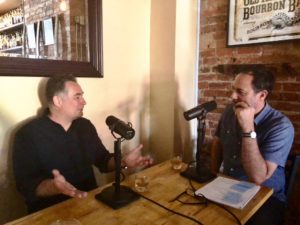 Ask a chef or restaurateur what skill is most important to running a restaurant, and you're likely to get a lot of different answers. Maybe it's the ability to multi-task. Perhaps it's knowledge of specific kitchen skills. For some, it might be a secret recipe. But when The Distiller posed that question to Derek Dos Anjos, chef and owner of The Anchor OTR in Cincinnati, we got an answer we didn't expect: compassion.
And what a great answer it is. In today's "celebrity chef" culture chefs are increasingly more important than the quality of what they produce. It's easy to forget that the key to managing the stress and unpredictability of the kitchen doesn't have to be ego or bluster, but it can actually be compassion.
It's also unsurprising, after listening to Derek's story, that this is his answer. Honestly, he undersells a bit of the hardship but that's his character. Listen to the interview and you'll hear the stories of significant challenges. Not just distractions (like working in MTV for a spell), but things like your restaurant burning to the ground immediately after opening. But what you'll hear more of is Derek's focus on relationships. You'll hear about the importance of having been mentored by someone who really believed in him. You'll hear about how important it was for him and his wife to move back to Ohio to be closer to family. And you'll hear how he's carrying that forward in the way he runs his business today.
Derek Dos Anjos – Links & Information
The Anchor OTR played host to the first episode of The Distiller back in December of 2017. For this episode, we wanted to get Derek away from the daily concerns of running his business, so we met at Old Kentucky Bourbon Bar in Covington, Kentucky. OKBB (as it's known in Covington) is a bourbon lover's dream. And as Derek and host Brandon Dawson sipped glasses of Woodford Reserve's Double Oaked bourbon, they talked about that path, and about the importance of remembering what's important along the way.
Leadership and Lobster Rolls
For Derek, a big part of that has been his relationship with Mary Redding, owner of Mary's Fish Camp in New York's West Village. Mary was a mentor to Derek, and eventually a business partner, and remains a big influence on his life and work. That influence includes bringing the award-winning lobster roll recipe from Mary's Fish Camp in the West Village, first to Brooklyn, and then to Cincinnati. Derek described what makes a true New England lobster roll, and why it became such a hit after the real-estate crash of the early 2000's.
These days Derek is thinking about the next step. The neighborhood has changed around The Anchor, and what was a somewhat isolated outpost in Over the Rhine when he first opened in 2012, is now the epicenter of Cincinnati's burgeoning restaurant culture. Derek's thinking about another location…maybe a bar. Somewhere a little less stressful. Somewhere you might see a couple of people sipping bourbon and recording a podcast. We look forward to it. In the meantime, you'll find us enjoying the lobster rolls every Wednesday at The Anchor. Hope to see you there.
The Distiller Podcast with Derek Dos Anjos