Theatre House owner Marty Boyer is a high-character individual.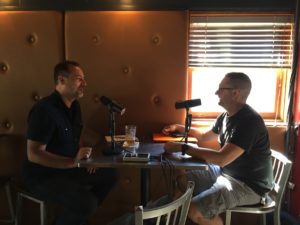 Marty is a unique individual in that his ego has (apparently) almost no bearing on what he does for a living. Marty is the most pragmatic individual I've ever met. He has the ability to make a clear-eyed assessment of his skills, and then look for work that will allow him to be successful using those skills. The word that best describes Marty (and a word we use far too much in this episode as a result) is "pragmatic." Marty is about what works. But, as we discussed, that doesn't mean he's without care or emotion in what he does, far from it. Marty believes the best way to care for people is to do things right. To him, "high touch customer service" is on par with how we care for our friendships or our family relationships. It's a pretty unique idea in today's business world.
Which leads us to the set of decisions that led Marty, a technology native who'd previously worked in advertising and business development, to buy a shuttered business selling theater supplies from costume fabric to cake makeup. Marty bought the Theatre House from a friend (who'd just bought the property without thought to what was in it) in late 2017 and immediately set about turning it profitable in the fastest possible manner. But along the way, Marty's values influenced (and continue to influence) every decision. Hearing Marty talk about that process is a great insight into the process of a person with a distinctly unique approach and point of view.
Bringing Meaning to Work Through Clarity of Values
We started off this conversation with Marty talking about the place we met. Pachinko is a neighborhood bar in Covington, Kentucky, just across the Ohio River from Cincinnati. Yelp lists it as a dive bar, but Marty describes it as a "permission bar," a place where you have permission to be yourself. Marty worked at Pachinko in college, and remains not only a regular at the bar, but close friends with owner Tom Fessler. Tom's owned Pachinko for over 25 years and is the heart and soul of the business. For Marty it's a perfect example of someone who's doing exactly what they should be, someone whose endeavors are the perfect illustration of who they are.
Listening to Marty we can't help but marvel at the clarity he brings to the things he does. From his original decision to buy and re-open the Theatre House, to his investments in his staff, to his relationship to his customers. Marty is consistently working to be the best at what he does, not for the sake of bragging or ego, but because it's the right way to do things. It's the way to get the result you want. Much like our conversation with Libby Hunter in episode 17, Marty's relationship to "meaningful work" comes not from a theoretical discussion, but from an assumed, inherent, pragmatic approach to doing things the way they should be, because that's the approach that brings results.
Marty Boyer Links & Information:
The Work We Do vs. Who We Are
For Marty it all comes back to what he wants to do, and what he wants from life. And his values are both the building blocks and the measuring stick of that life. Listen to the episode and hear how often Marty refers back to those values as being informative to his process. For so many of us, large parts of our lives seem frequently out of control, or lacking context in the big picture of who we are or where we're going. Marty says in our conversation that he wants to spend the last 25 years of his life "screwing off." He's not kidding. He wants to have some fun. He also says he doesn't believe in "work-life balance" because it's all just life.
In the context of our show as a whole, Marty's perspective is one of simple, clear, consistent work. Yes, that work is toward some specific goals, but, as Marty says at the very beginning of our conversation, it's less about what he does and more about who he is. Marty's story, and his ongoing work, is a testament to the effectiveness of that kind of clarity. Oh, and the Theatre House is a ton of fun.
Show Notes:
Marty mentions "Bridge" or "Bridge Worldwide" a couple times during the conversation. He's referring to the digital advertising agency Bridge Worldwide, where Marty and Brandon first met, and worked together for four years. Bridge was later enfolded into a network of WPP advertising agencies that were eventually renamed POSSIBLE.
Marty mentioned the Clay Wade Bailey Bridge early in our conversation, but we never got back to that story. Here's the full story on how Marty (and the Theatre House) ended up paying the power bill for the Clay Wade Bailey Bridge. And here's the snopes.com article confirming that it's real. As much as anything, this story, and its resolution, is a glimpse into Marty's character and approach. He's fair but dogged. He takes care of people as well as anyone, but he also takes care of business. And he doesn't confuse the two.
Theatre House Owner Marty Boyer on The Distiller Podcast