Tamaya Dennard is the future of local politics.
As one of the newest members of the Cincinnati City Council, Tamaya Dennard represents everything happening right now in political discussions across the US. This is Tamaya's first time holding public office. It seems clear that it will not be her last. We talked to Tamaya just four days after she was sworn in, still reflecting on a campaign in which she placed 6th out of the 9 candidates who won seats on the council, and out of the field of 23 who ran.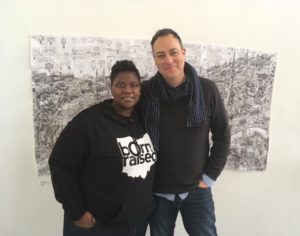 Talking with Tamaya you immediately get how she could come out of nowhere to win public office. She's one of the most genuine, grounded people you'll ever meet. She shares with us how her personal experiences with discrimination, inequality, poverty, and a loving but unstable home life perfectly prepared her for her current political role. She's passionate about solving these issues and including the people who are living these experiences in the problem-solving process.
Tamaya Dennard didn't set out to become a public servant. She left a very successful career in the corporate world, taking a huge pay cut to work on now fellow city-council member P.G. Sittenfeld's first council campaign. But her interest in local government and in these issues has long been a priority for her.
We met Tamaya at Wavepool Gallery in Cincinnati's Camp Washington neighborhood. Wavepool is "a contemporary art fulfillment center," offering gallery space, studios, workshops, and even an on-site artist residency program. Owner/Founder Cal Cullen showed us around the space and set us up in Wavepool's main gallery for our conversation.
Spending time with Tamaya is infectious. You get a sense of possibility. There's a lot going wrong in our country right now. Talking with Tamaya, it's exciting to meet someone so committed, so engaged, and so obviously capable of impacting a city for the better. Since our interview, Tamaya has already taken controversial stands on several issues important to the city of Cincinnati. She's proving true to her word to remember those she represents and to bring them to the table with her.
We're honored that in such a busy time, Tamaya chose to talk with us about her story. We can't wait to see what's ahead.
The Distiller with Tamaya Dennard