Julius Jenkins Wants to Bring Street Culture Back to Life.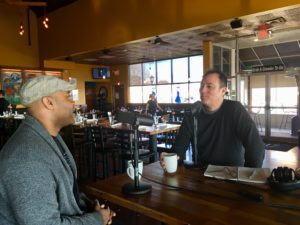 You may already know of Julius Jenkins, or his work, and not even know it. You may have seen his choreography as part of the street dance event "Heroes Rise." Perhaps you've seen one of his collaborative performances with the Cincinnati Symphony Orchestra or The Cincinnati Ballet. Maybe you've him dance as "Eclypse," with his group "The Millennium Robots." Or you've crossed paths with him at the University of Cincinnati, where he's an adjunct professor at the College Conservatory of Music. Oh, and did we forget his role as Senior Dance Instructor at Elementz Urban Arts Center? Needless to say, he's a busy guy.
But it doesn't matter where you've seen him or his work, or what you call him; when you see him dance, it's hard to look away. It's part talent, part natural charisma, but Julius grabs your attention and doesn't let go.
That magnetism is a powerful tool, and Julius is determined to use it to help revitalize street culture, including hip-hop dance, in and around Cincinnati. Ever since moving back to Ohio from the Middle East at the age of 17, Julius has been on a mission to re-ignite the art forms that inspired him as a teenager. And he believes that doing so can help teens and young adults to find meaning in their own lives as well.
It's an idea that a lot of society has dismissed: that street culture is not the absence of adherence to societal norms…but the natural evolution of societal norms. It is the way generations of kids are finding meaning in a culture that has marginalized them. Julius is no mere pied piper of dance, he's a powerful force for social change. A thoughtful, intentional force for good in the lives of a growing number of people.
The Millennium Robot in Price Hill
We met Julius on a late Sunday morning at the Incline Public House in Cincinnati's Price Hill neighborhood. The Incline was just opening when we started talking, and by the time we'd finished, it was packed and hopping. You'll hear that in this episode…the sound of a neighborhood joint coming to life. Thanks again to the staff of the Incline for putting up with us while things got busier. We talked about Julius's work with Elementz, a center for Hip-Hop youth, his work as The Millennium Robot (including public performances at Newport-On-the-Levee in Newport, Kentucky, which he still does), and about his work as an adjunct instructor at the University of Cincinnati's College Conservatory of Music. He's a busy man, doing great work, and we appreciate the time he spent with us.
The Distiller with Julius Jenkins at Incline Public House