Kelly Dolan knows business can do good and make a profit at the same time.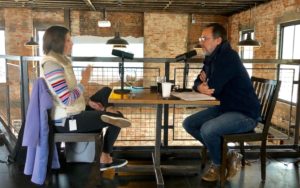 Kelly, along with her business partner Michael Kroeger, are the co-founders of two companies, Ingage Partners, and Thrive Impact Sourcing, that are both Certified B-Corporations. You've likely heard of C-Corp and S-Corp companies, but a B-Corp is a little bit rarer. B-Corp companies (not the same as "Benefit Corporations") are certified by B Lab, an independent non-profit headquartered in Pennsylvania. According to their website, bcorporation.net, "B Lab is a nonprofit that serves a global movement of people using business as a force for good."
Kelly and Michael had worked previously in the IT consulting world. When they set out to start a business of their own, they didn't just want to create another company. They wanted to start a company that would do active good, both for their employees and for the world. And they didn't want to create a non-profit. For reasons Kelly explains in our conversations, she is a firm believer in the ability of for-profit companies to do good. Ultimately they decided a B-Corp was the way to go.
Episode 27 – Kelly Dolan Links & Information
Ingage Partners & Thrive Impact Sourcing
Ingage Partners is an IT consulting firm that offers services including not only IT solutions but organizational consulting to firms in and around the Cincinnati area. Thrive Impact Sourcing is ostensibly a talent recruiting and sourcing company. But where most talent sourcing companies hold tightly to their people, Thrive's model is built on open-handedness. Thrive hires talented people looking for a "second act," and pairs them with companies that need their skills. Far from demanding their employees not be "poached" by their clients (which most talent sourcing companies do to protect their workforce, and profits), Thrive actively seeks to place people in full-time, "permanent" positions. The turnover of their staff is part of their model, and creates space for new people to come in, receive training, and in turn be placed in the workforce.
It sounds a lot like a non-profit model, but you don't have to do much searching about either company to find articles touting the size of their success. Today both Ingage Partners and Thrive Impact Sourcing are multi-million dollar ventures, employing approximately 150 people between them. Ingage Partners actually re-organized last year into an ESOP. An ESOP is an "employee stock option program," meaning the employees now own the company. It's just further proof that Kelly and Michael are seriously committed when it comes to doing right by their people.
Making A Difference, Making A Profit
It's almost a given that when we talk about companies who put "meaning" or "impact" into their mission statements, we're going to be talking about non-profits. But with their two (pardon the pun) thriving B-Corps, Kelly and Michael are proving, along with thousands of other B-Corps around the world, that profit and impact are not mutually exclusive.
And the work they're doing together is not going un-noticed. Kelly was recently named one of the Cincinnati and Northern Kentucky Enquirer's 2018 Women of the Year. These days she's in demand not only for her IT knowledge, but for her wisdom in creating and managing companies that balance human and environmental impact with profits. Kelly Dolan is proving you don't have to choose between being good, and being profitable. Now there's a lesson about truly meaningful work.
Kelly Dolan of Ingage Partners on The Distiller Podcast